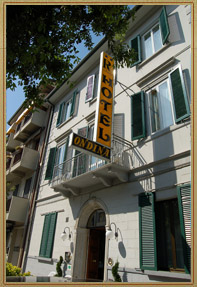 elcome to Hotel ONDINA a nice
structure that derives from a liberty style house which was built at the beginning of 1900. After the second world war the house was restructured so the hotel was born. All the floor and steps are made of white Carrara marble. The Hotel is located very near to the beach (3 minutes on foot) It's a got a nice garden with comfortable chairs and furniture for relaxing moments.Trough the years it has been seeing thousands of Italian and foreigner tourists  who came here for spending their holidays and for visiting our beauties. Our hotel is located in Viareggio, one of the most famous town on Tuscany's coast. Viareggio is famous all over the world  for the Carnival which take place in February every year, in which huge and allegoric carriages are on parade. We invite you to taste our courtesy, cordiality, and food specialities of the famous Tuscany's restaurants. Nerar trere are famous cities like Lucca, Firenze, Pisa, Siena and Carrara. We have a good train and bus service for reaching them.
Benvenuti nel nostro Hotel, a Viareggio,
in  Toscana nel
cuore della Versilia. Un Hotel stile liberty a due passi dal mare, dove la cordialità ed il buon gusto si fondono. Hotel a completa  conduzione  Familiare,  ha visto migliaia di turisti provenienti da tutta Europa attratti non  solo  da  un  luogo  ideale   per   una  vacanza rilassata ma  utilizzato  anche  come  crocevia per le più importanti località Toscane. Famoso è  inoltre  il suo Carnevale  rinomato per  bellezza e  grandiosità dei  suoi  carri  allegorici.  Vi invitiamo a  provare la nostra  cortesia e cordialità tipica della  nostra terra.L'Hotel Ondina è  un  albergo che deriva da un'antica villa liberty dei primi anni del novecento.  Ristrutturato  e  ben   conservato offre un ambiente intimo e rilassante. L'ambiente si presenta conpresenta pregevoli decorazioni in gesso fiorentino e dispone di una scala in pregiato marmo di carrara con passamaneria in ferro battuto che si snoda su due piani. Il nostro Hotel è vicino al mare, la  spiaggia dista  infatti poche decine di metri dalla nostra struttura ed è raggiungibile pertanto molto velocemente a piedi. L'Hotel dispone inoltre di giardino attrezzato per il riposo e la lettura e di un piccolo ambiente pronto a prepararvi nel periodo estivo delle colazioni tipiche italiane con prodotti freschi e di prima qualità.
Una bellissima e lunga spiaggia è la caratteristica principale di Viareggio. Il suo mare poco profondo e senza nessun sasso è ideale per nuotare, rilassarsi e prendere il sole comodamente seduti sotto un ombrello.
A beautiful long beach is the main feature of Viareggio. Its shallow waters and no stone is ideal for swimming, relaxing and sunbathing comfortably seated under an umbrella.

Il Carnevale è l'anima gioiosa ed artistica di Viareggio. I suoi carri allegorici fatti di cartapesta sfilano ogni anno sul viale a mare coperti da coriandoli e stelle filanti. Una occasione unica per vivere dei momenti diversi lasciando a casa i cattivi pensieri.

Carnival is joyous and artistic soul of Viareggio. Its made of papier-mache floats parade each year on the road to the sea, covered with confetti and streamers. A unique opportunity to experience leaving home a bad thoughts.

Viareggio non è solo una città di mare ma offre opere d'arte nella sua architettonia, ispirata all'art nuveau ed allo stile liberty. Le case del bellissimo lungomare raccontano questa storia. La musica è l'altro elemento che ha accompagnato questa terra con le famose opere di Giacomo Puccini che di fronte al suo Lago compose le sue più belle e commoventi opere liriche.

Viareggio is not just a seaside town but offers works of art in its architectural style inspired by art nouveau and Liberty style. The houses in the beautiful waterfront tell this story. Music is another element that has accompanied this land with the famous works of Giacomo Puccini that composed in front of his Lake his most beautiful and moving opera.